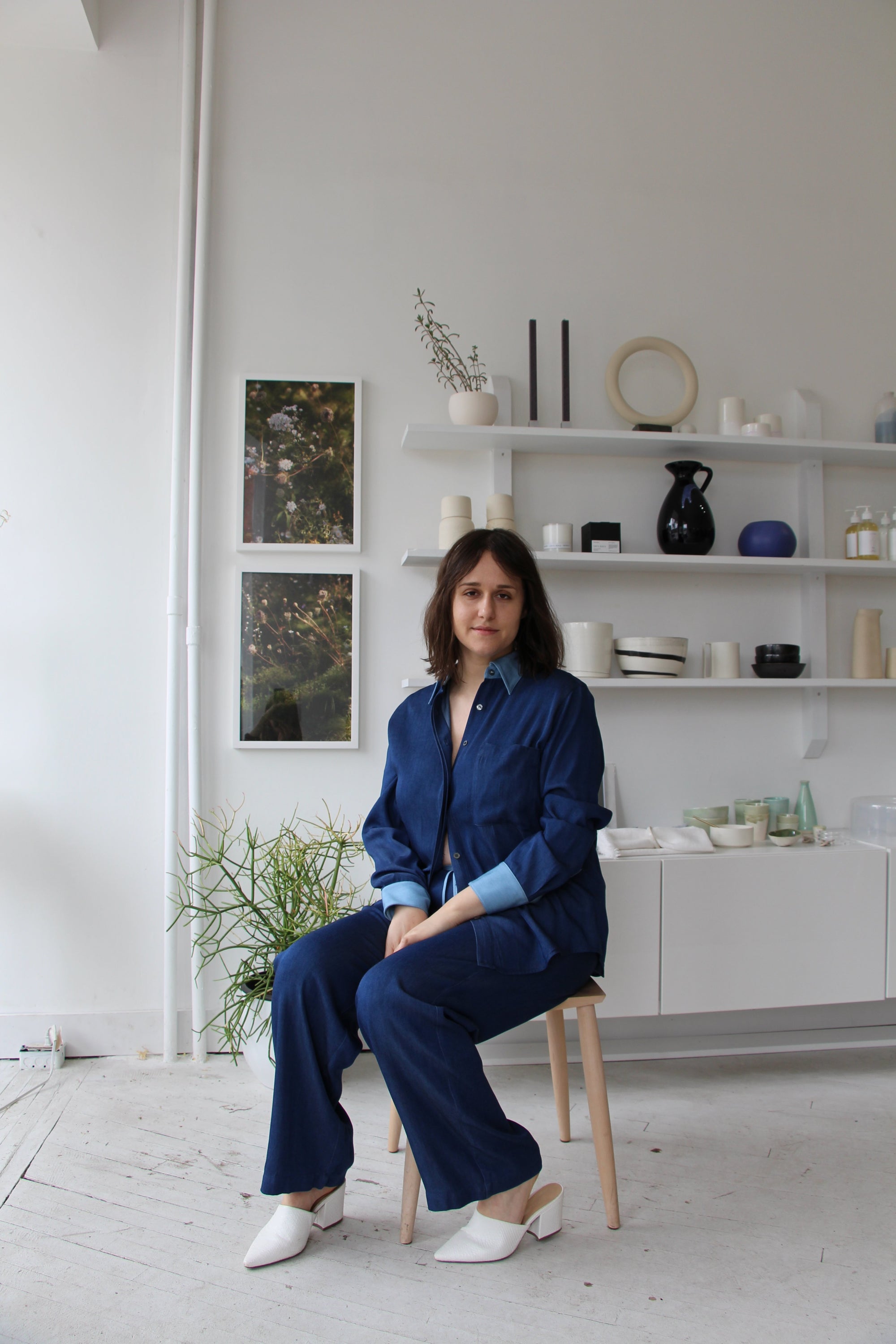 · By Megan Alexander
Interview with a good woman: Sammi Smith from Soft Focus
Tell us a bit about yourself:

My name is Sammi. My background is in fashion design and I've been doing it for over 10 years now. It's always been a creative outlet for me and Soft Focus is my company that I started in 2017.

I'm from Toronto and live here now, however I used to live in Vancouver for about five years. That time influenced my style quite a bit. It's very casual and relaxed in Vancouver and I was living there for some of my most formative young adult years. So I came back to Toronto with that aesthetic implanted in me. I was really surprised when I came back to Toronto, how much more formal it felt than Vancouver.

How did you start your business / what inspired you to start it?

I had been working in fashion for other companies for a long time. I worked for Joe Fresh for a couple of years and was ready to move on, but I wasn't finding other companies that I really wanted to work for. So, I decided to start freelancing and that meant working from home. This was a huge transition for me, a big lifestyle change. I was home all the time.

That was my first step into being entrepreneurial and my inspiration behind my business, Soft Focus. I wanted something better than ratty old PJ's to wear around the house while I worked. Something that I could also wear when I went out for a meeting or to grab a coffee. It stemmed from my innate love of being at home and the laziness around that, but also not wanting to lose my sense of style in that setting. Soft Focus grew out of that.

Did you face any challenges as a woman starting a business?

Working in fashion I've always been in these very female-dominated environments. Most of the teams I've worked with were women, most of my managers were women, but I will say that the majority of companies I worked with, the CEO or person who owned the company was usually not a woman. That's something I'd like to see change in the industry. But unique challenges? I don't think so. I feel like it's been an exciting thing being a woman and starting my business.


How do you maintain a healthy work/life balance as an entrepreneur?

I'm a Taurus and I started a pyjama company because I love to do nothing. I work hard and I work a lot, but I don't think I'm capable of not creating time for myself. I try to avoid the burnout, and I think that I innately allow time for myself each day because of that.

That being said, it's hard to fully shut off. After finishing my first year in business, I got a really bad flu that knocked me out for a couple weeks, then I got a back spasm, and I was like, this is why you have to do these things every day to take care of yourself. Because I can't be out of commission like this if I am running this business.

This year, I've been making more of an effort to exercise and stretch. I'm realizing that something like yoga is a non-negotiable in my life. I need to shut down my brain and focus on my body, it just makes me feel a lot better. I've found that since I've been doing that it's been a really big help.

What's the most valuable advice you've ever received?

It actually comes from a yoga class and has turned into my general day-to-day mantra. It's, "focus on your own yoga mat". Avoid getting caught up in comparison and jealousy and "this person's better, I'm not good enough". You are where you are and that's where you're supposed to be, and that's good for today. I have carried that with me in my work life for years and years and years.

The other piece of advice, specifically for running my own business is: focus on what you love doing, you're great at doing and what's the best use of your time, and try to find people to help you out with the rest. Essentially delegating and not trying to do it all yourself.


Do you have a self-care practice?

Not really. I mean - I would like to think so, but it's not consistent. Right now with Soft Focus, the days are a lot busier than they used to be. So on days when I actually do get to work from home again and stay in my pyjamas, I'll break it up and shower in the middle of the afternoon or put a face mask on at 3pm. That always feels extra special.

I also like this app called Happy Not Perfect, it's really cute. It's like a meditation/mindfulness/gratefulness app. I use it on days when I'm a little more stressed out. You swipe your finger across the screen and it burns a paper with the things written on it that have been stressing you out. Then you write down what you're grateful for. There's something about burning that piece of paper that's the best thing ever.

How do you deal with/manage stress?

Right before I started my business, I decided to go to therapy because I recognized that I had anxiety that I needed to learn how to manage better. So that was huge and it's made a massive difference in my life.

And now, when I have stress, I try to recognize it, and recognize if I'm having an extreme reaction to it. I take a breath and create some space from it and just allow myself the time to approach it a bit more rationally and less emotionally. Meditation also helps.


And how do you deal with periods of procrastination or lack of inspiration?

Well I'm a natural procrastinator. I tend to cut myself a lot of slack when it comes to not getting things done. And I think that's actually kind of a good thing. I was used to jobs where it was always crazy deadlines. With my own business, my approach is a little bit more: if it doesn't get done today, it gets done tomorrow. Nothing's gonna make or break the business by a day so I tend to be a bit generous with myself with that.

And then if I'm lacking inspiration: I carve out time to allow myself to intentionally avoid the million things on my to-do list. That allows me to get back into the headspace of being creative. Sometimes I go to the reference library and just look at books.

Do you have a favourite book / movie / music to feed your soul?

Right now I'm reading The Creative Habit by Twyla Tharp. She's a choreographer and I just heard that it was an interesting book about creativity and process and I'm really liking that. Since starting my business, reading books like that have been really helpful.

In terms of a favourite movie – well, it's basically like comfort food for me – Willy Wonka And The Chocolate Factory is my favourite movie since I was a little kid.

What inspires you to keep going?

The idea of going back to working for somebody else, isn't something that I want to do right now. I mean it doesn't scare me, I could do it if I needed to. But I don't want to. So that in and of itself is reason enough to keep going. I also believe in myself and believe in my ability to turn this into a successful business that I'm proud of. And that makes me happy.