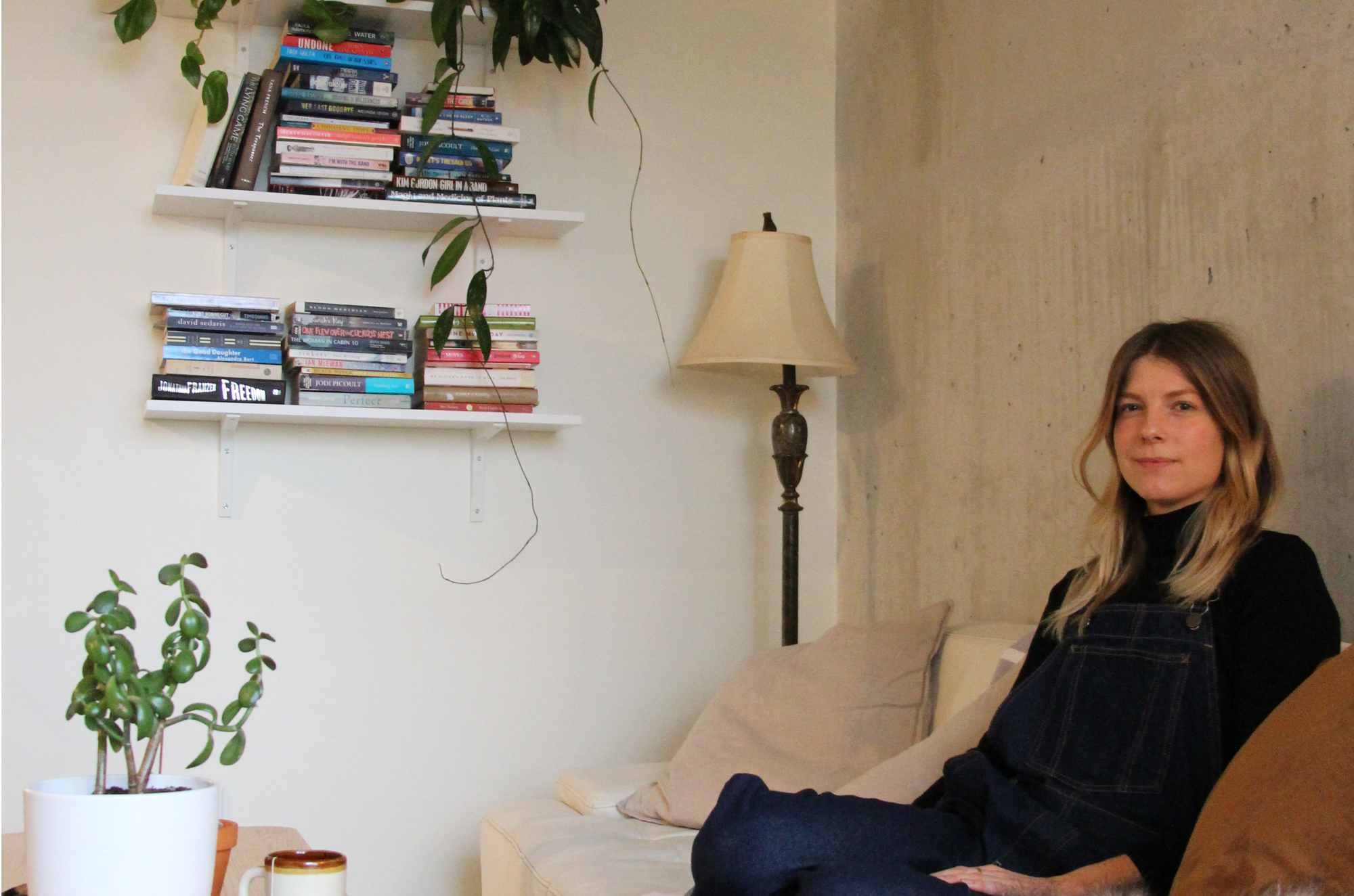 · By Megan Alexander
Interview with a good woman: Morgan Dowler from Eleventh House
Tell us a little about yourself:
My name's Morgan, I'm originally from Vancouver but I moved to Toronto in 2014. That's when I started Eleventh House, which is a hand-made jewellery company, made here, in Toronto. I took an intro to jewellery design course at George Brown, kind of like silversmithing. Since then, I've met so many amazing jewellers, metal-smiths and woodworkers that I've learned other skills from.
For the past few years I've been working for Province Apothecary, another lovely woman-run business. But a few months ago, I stepped away from that so I could take on Eleventh House full time. Which is scary, but fun!
How did you start Eleventh House? 
When I was living in Halifax, I went to visit my friend in Cape Breton, and we were going for a walk on the beach and I started to pick up rocks. I thought that some of the rocks would look really beautiful as pendants, so I started doing wire wrapping with stones and crystals.
When I moved here, I kept doing it as a hobby but I had a feeling that it could actually be lucrative. So I went to school for jewellery design, and learnt a little bit more and then was doing it part-time while working for other women like Julie Clarke of Province (Apothecary) and Erika Brodsky who owns Sub Rosa Vintage.
I was watching all these other women do their thing and was like 'Oh! I want to do that.' So, I turned jewellery-making into a business.
Where does the name Eleventh House come from?
I was reading an astrological book that belonged to my roommate and looking at what all the different houses meant, and the eleventh house is the house of friendship and relationships. It kind of links up with how I was inspired by my relationships with all these creative women.
Did you face any unique challenges as a woman starting a business? 
I definitely faced difficulties, for example, financially it's challenging to start a business. But being a woman, I didn't find it particularly hard or noteworthy. I think that's largely because the jewellery industry mostly consists of other women. And because of the community of women that embraced me when I arrived.
How do you maintain a healthy work/life balance as an entrepreneur/business owner?
I went to school for nutrition so balance has become deeply ingrained in how I live my life. I also run every day.
But I do struggle to shut off. Like the times that I'm working and then the times that I'm not working - there's just no divide there. I'm checking emails right up until I fall asleep and then checking them again as soon as I wake up. I do it because I feel like it helps with time management, but then it just carries on and on. So that would be the one thing that I think I struggle with.
One way I can rid myself of feeling guilty over not finding enough balance is removing myself completely from the city. Which is difficult to do, and not everyone can afford to do it. I feel like a lot of my income from Eleventh House goes into taking those trips to keep me sane...
Being from Vancouver, I was raised in the mountains or on the ocean, so that's been a huge change living here. For the first two or three years of living here I just felt like nature wasn't accessible, like I didn't know how to get there. Finally, I'm figuring out how to fit it into my life.
What's the most valuable advice you've ever received?
I've been saving these little quotes on my phone, so when I'm feeling super overwhelmed I read those. This is one I was reading earlier, 'Give yourself permission to leave any person, place or situation that doesn't nurture, uplift or enrich you or your life path in a real way'.  
As women we assume these roles where we're nurturing or always trying to be light and take care of everybody and be an empath or say yes to everything. I just learned that if you do that you're going to burn yourself out. And then you can't give anything to anybody, including yourself, most importantly. That's something I've been trying to practice more.
How do you deal with/manage stress?
Recognizing when I'm becoming too overwhelmed, which can be hard to do. Stepping back and being like 'is this a healthy thing right now?' Which, for me, was learning that I need to go on a hike, or leave the city.
When work doesn't feel inspiring, or it feels a little monotonous and I'm not bringing positive energy into my relationships or that space; that's when I know I need to do something.
How do you deal with periods of procrastination or lack of inspiration?
I kind of have the opposite problem, where I need to slow it down. But I guess in the summertime it's super slow for jewellery, so that would be the time that I should be creative and take time to make new things. But it's hard to want to be in a studio when it's so nice out.
So, that's sort of something that I have to figure out. I definitely get the most work done when I'm too busy already. You know that saying, 'if you want something done give it to a busy person'? That's definitely how I operate.
There are ebbs and flows though, you can't be making new things all the time.
What is your favourite book/movie/music to feed your soul?
Music has been a huge part of my life. I play music, but I've sort of set that aside to do this full time. Halifax was a great place for arts and music. I was helping run a girls rock camp there, so that has always been a part of what I do.
Lately I've been reading books about mountaineering and off grid living, can't get enough of that stuff.